Global Team Effectiveness Model
The fast and powerful way for teams to determine their effectiveness and gather feedback to improve their performance.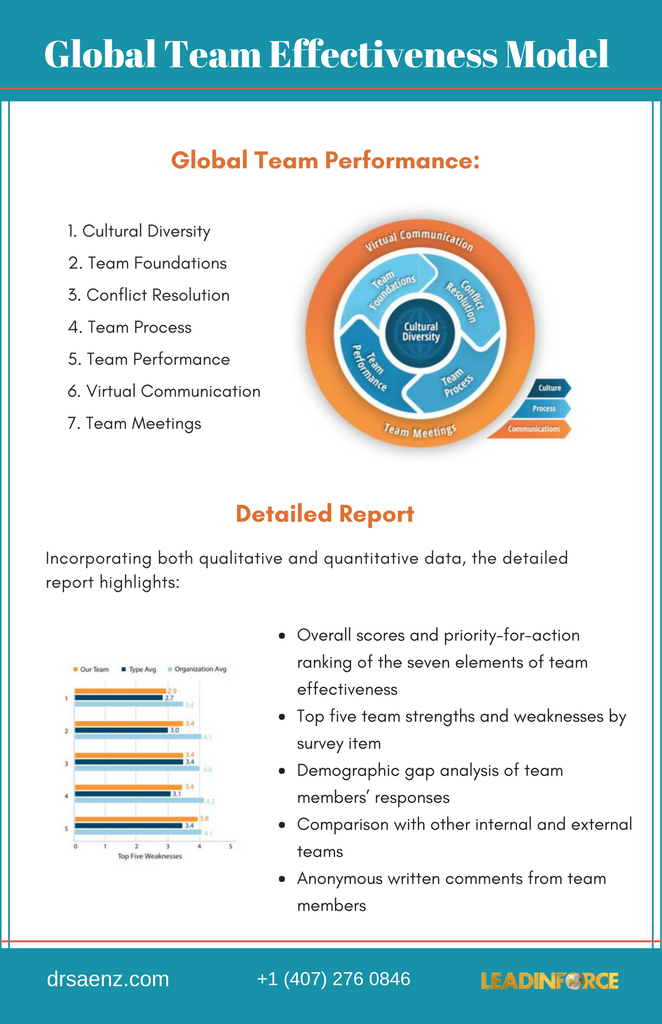 The Global Team Effectiveness Model measures the following seven elements of global team performance proven that are critical for teams to achieve their goals, especially when operating across distance and/or culture:
Cultural Diversity
Team Foundations
Conflict Resolution
Team Process
Team Performance
Virtual Communication
Team Meetings
The Global Team Effectiveness Model allows team leaders and facilitators to:
Gain insight into team's strengths, weaknesses, and priority areas for improvement
Identify significant gaps between the responses of groups from different teams (i.e. country location)
Receive actionable advice & strategies to improve team performance
Detailed Report
The primary purpose of this report is to identify your team's general strengths and weaknesses, as well as the priority areas for action as determined by team members' input.
Incorporating both qualitative and quantitative data, the detailed report highlights:
Overall scores and priority-for-action areas based on the seven elements of team effectiveness
The top five team strengths and weaknesses by survey item
The Demographic gap analysis of team members' responses
A Comparison with other internal and external teams
Anonymous written comments from team members
The assessment results are used in structured and engaging team building sessions that intend to promote higher levels of productivity with a practical improvement process.
Assessment results are analyzed & addressed by the team with the purpose of designing an actionable improvement process.
Team building activities are built into the sessions with the intent to build trust and understand style differences.
Customized sessions are facilitated over agreed-upon lengths of time which include Face-to-face and/or Virtual sessions.
to Schedule a Training session for your Team or Business.