Team Foundations to Maximize Performance
"Great things in business are never done by one person. They're done by a team of people." – Steve Jobs
Global, multicultural, and virtual teams are on the rise, yet the skills and behaviors required to thrive amidst this innovative way of working have a tendency to lag behind.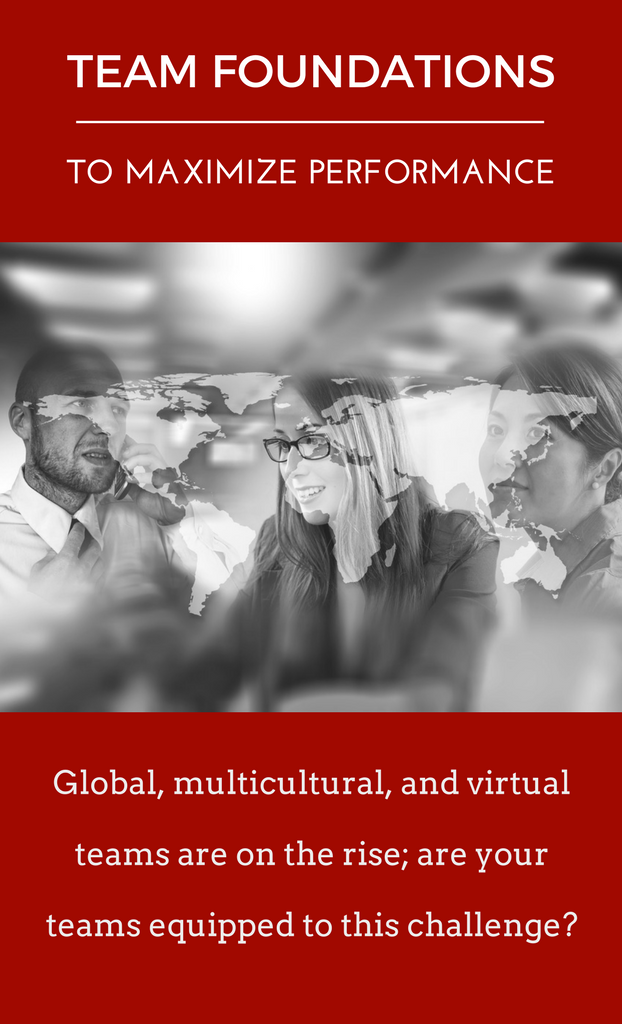 GLOBAL AND MULTICULTURAL TEAMS:
Require a different mindset
Involve a unique strategy
Demand a virtual skill set
Need an effective cultural approach
INNOVATIVE & UNIQUE SOLUTIONS
Our solutions are based on the understanding that effective global, multicultural, and virtual teamwork takes extra work – it requires a different mindset and the creation and nurturing of a unique corporate culture in order to maximize team performance.
The unique solutions that are combined in this program will take your teams and your organization to a much higher level of performance.
The Global Team Effectiveness Model is an online tool that measures a team's current level of effectiveness while providing valuable feedback at the same time in order to improve performance on the seven critical elements of a team that allow it to achieve their goals.
The Cultural Awareness Profile is an effective, statistically validated and powerful tool to optimize effectiveness through awareness of individual preferred work styles and how they compare with other cultures and colleagues.
TAKE YOUR TEAM TO A NEW LEVEL OF EFFECTIVENESS:
Equip each member of the team to improve their particular role within the team and allow each member to connect to strategic business goals.
Allow each individual contributor to develop the skills that are required to influence without authority in increasingly complex multicultural and matrix environments.
Promote the right mindset within your teams to maximize their performance in a complex multicultural and virtual world.
NEWLY FORMED AND ON THE RUN TEAMS:
This program focuses on developing awareness, building trust, clarifying roles and responsibilities, and creating the best practices for norms and agreements. Establishes the unique work style for each member of the team and links its profile to priorities and goals.
Creates a strategy to ensure the alignment of roles, responsibilities, and goals.
Gains insight into a team's level of effectiveness and identifies areas for improvement.
Advises on recommended action steps and strategies to improve team's performance.
Other specific training programs can be added to this training based on the particular needs of your team.
Contact us for a FREE CONSULTATION.
to Schedule a Training session for your Team or Business.