On the road to achieving your goals, the determining resource is You. Not just because you are the only one who knows your goal, but because you have the desire to make your dream come true. However, there is no goal that we want to achieve that does not involve sacrifice. Small goals require small efforts, big goals require big sacrifices.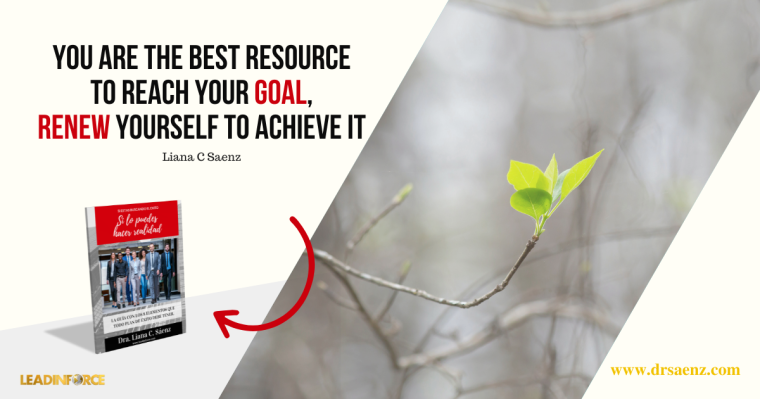 I invite you to see how you can ensure that the most valuable resource: yourself, is in the best condition to achieve your goal.
You are the instrument of your own execution. On the way to achieving your goal, you will encounter obstacles, hard days, disappointments, difficult people, and many other things that will bring you to stress, fatigue, and often discouragement. This is why it is valuable to take care of and renew yourself.
Essentially, to reach your goal, you need to be clear on what you want to achieve and have a plan of action to get there. As part of this action plan, you need to learn to renew yourself and stay in optimal condition to achieve your goal.
Renewing yourself can mean different things like resting, distancing yourself from the usual, exercising, sleeping, talking with friends, or maybe reading a book, etc. However, you renew yourself, be intentional about monitoring the time you do it and making sure that you reanimate your life and your desire to move forward with your goals.
There is no success without sacrifices. Renewing yourself increases your ability to conquer life and be able to develop your potential.
For starters, renew yourself in the important areas in your life, such as: mental, physical, emotional, and spiritual.
Mentally: maintaining a positive frame of mind is vital to your success. Additionally, improving mental capacity and increasing your critical thinking skills.
Physically: to be healthy and have more physical energy.
Emotionally: to increase your ability to relate well and understand yourself and others.
Spiritually: to keep your motivation and inspiration very close to your values and your purpose in life.
Change is a constant in life; however, change and growth do not happen in a day, they are part of a process. As long as we live, this process of change and growth will continue.
Renewing yourself in the most important areas of your life is a lifelong habit. The continuous effort of personal improvement to achieve your goals, as well as the plan to achieve them, requires the habit of renewing yourself for life.
I know that it can be very overwhelming when you desire to achieve a goal, but do not have an action plan to execute daily.
This is why I created a guide with THE 8 ELEMENTS THAT EVERY SUCCESSFUL PLAN MUST HAVE as a resource to help make it a bit easier, for those working towards their goals and really wanting to make it happen. Even more, we have created a Workbook designed exclusively for you to develop a written plan of success. But that is not all, we have designed the LEADINFORCE AGENDA created exclusively to increase your intentionality, and we have it for you as a gift.
Pick up your free guide to begin today to build the plan of action that will take you to success. Get your workbook and your agenda as a gift.
Question: In which areas have you forgotten to renew yourself?

* * * You can leave a note on the Comments box below. * * *