During the last months, due to COVID-19 global crisis, maintaining a realistic thinking has been one of the greatest challenges we have faced. After so many statements about this virus, there is still a high level of uncertainty.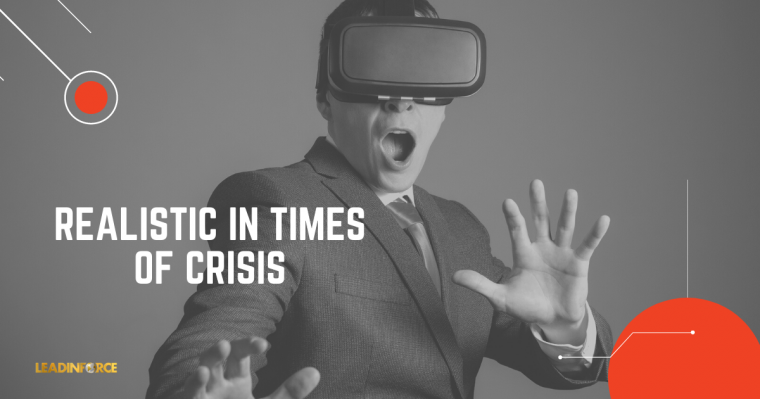 I agree with the American businessman Max DePree, "the first responsibility of a leader is to define reality" however, during these times of crisis, how can we do that?
Being optimistic and having a vision are fundamental in the development of any plan; however, as leaders, we are regularly in front of situations that require us to face the reality of the moment, define a goal, and establish a strategy to achieve it.
Having realistic thinking allows the leader to:
Promote the responsibility that every leader should have to manage resources properly.
Understand the difference between making an important decision and making a decision that is part of the daily management of a business.
Make decisions on time and with a high degree of efficiency simplifying systems and procedures.
Some may believe that being realistic is the first step to separate yourself from the hope that is required to overcome a crisis or a challenge. However, those of us who have experience in the corporate world and as entrepreneurs know that we cannot ignore realistic thinking in our daily decisions.
Realistic thinking is the foundation of any plan and strategy needed to maintain productivity and success in any organization.
The first step we must take to keep our realistic thinking is to observe the facts to later remove wrong assumptions and data. As well as,
Use reliable sources of information. For example, some news media do not always present reliable news.
Collect opinions from those you consider making sound decisions.
Evaluate the ideas of others. As legitimate as an idea sound, it may be based on personal agendas or inaccurate facts.
Use your values, what is the right thing to do?
Focus on the people around you and those who depend on you. The most important role of the leader!
Remember past crises and challenges, what did you learn from them?
During these months many of us have been in quarantine, some of us made this decision long before the government imposed it. Ever since the Center for Disease Control and Prevention (CDC) reported that this virus spread mainly through close person-to-person contact, the choice to practice social distancing was the most logical and realistic to take. Unfortunately, for many, the decision did not take effect until weeks later and for others, it has not yet been possible to practice due to their roles in the workforce. The reality for all of them is different.
Let us remember that this is not the first or the last crisis that we face, we have faced others of different magnitude. As long as we are leaders, we will continue to face more challenges; thus, the importance of developing our realistic thinking and making it part of our leadership habits for success.
In times of crisis, leaders must remember the importance of growth. Whether you are responsible for developing your company, others, or yourself, the more effective you are as a leader, the further you will go. Our leadership development training will take your leadership to the next level. Contact us we are here to help you.
Question: How can you define reality in every situation? --> You can leave a comment on the comments box below.